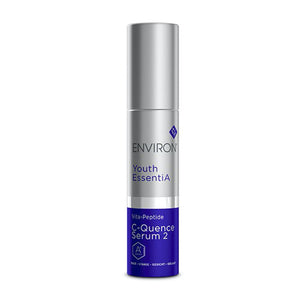 Environ
Vita Peptide C-Quence Serum 2
Regular price
$230.00
$0.00
Unit price
per
When your skin is comfortable with Serum 1, step up to Serum 2 which contains a medium concentration of Vitamins A,C and E as well as anti-oxidants and peptides.
Contains the signature Environ complex of vitamins A, C, E and antioxidants that help to combat free radicals and improve the overall appearance of your skin.
Contains peptides which assist in reducing the visible signs of ageing by firming skin, giving it a smoother appearance.
Helps rehydrate and moisturize skin, leaving it feeling softer.
Helps restore the intracellular vitamin A reserves required for a number of anti-ageing processes.
Vitamin A (Retinyl Propionate and Retinyl Palmitate): normalizes all cellular and skin functions.
Vitamin C (Ascorbyl Tetra Isopalmitate): powerful antioxidant, stimulates the production of Collagen and Elastin, strengthens capillaries, lightens the pigment.
Vitamin E: Antioxidant.
Lycopene, Green Tea extract, Rosemary extract: Flavonoids, Antioxidants.
Matrixyl®, Dermaxyl®: Peptides, stimulate the production of Collagen and Elastin.
Hydrolyzed jojoba esters and Hydroviton®: Improve hydration, smooth and plump the skin
---